Ever since I was a kid I saw these –
and thought- When I grow up I want to work at a magazine just so I can fill in the list with people I actually admire (although I admit there were many times when People, Time, Barbra Walters, etc- would showcase someone I was a fan of.)
So for no other reason than to say I can here are my most beautiful, inspirational, celebrities. (I'm stopping at 10 because 100 would be a really long post.)
10.Michael Bernardo
Michael Bernardo was the 90's for me. The former stuntman rose to fame, to star in a few movies, namely the Shootfighter series (about a pair of friends taking down illegal fighting rings.)
But I fell in love with WMAC Masters, a show made in response to martial arts craze brought about by Power Rangers in the 90's.
Basically, it was the martial arts version of pro-wrestling. And his character was a badass biker who played with fire.
Michael Bernardo retired from acting to open Bernardo Karate in London, Ontario. To train the next generation of badass martial arts stars.
9.SSSniperwolf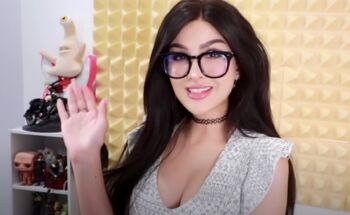 Youtube star Alia Shelesh is a gamer, vlogger, and comedy/reaction video channel. I came across her stuff when I was feeling bored and a little depressed but her personality is like a dose of Prozac for the soul.
There's not much I can say. She lives in Arizona and like many YouTubers, she had a big house and a nice car. But she's not vain. She even makes fun of herself on occasion.
Her channel is worth checking out. 8 million + subscribers can't be wrong!

8.Edgar Ramirez
The movie Domino (2005) was about an heiress/model who wanted to become a bounty hunter. She teams with Micky Rourke and his assistant Choco, played by Venezuelan actor Edgar Ramirez. He had little to no lines and this was his first English speaking role.
He went on to such great roles as Ares in Wrath of the Titans, the musician husband Tony in Joy, even Bodhi in the Point Break remake.
Recently he played Kandomere in the movie Bright (a movie that touched on racism in the form of Humans vs Faries vs Elves vs Orcs.)
What I found interesting was in a movie where Orcs were the ethnic minority, Kandomere is Hispanic elf FBI agent.

Beauty comes in all forms.
7.Azzyland
Youtuber Azzyland (her real name is listed as Azzy so that's what I'm going with…) Is kinda similar to SSSniperwolf. In fact, because she got her start a few years later, she had often been accused of ripping off SSSniperwolf. But they are both really amazing. They both happen to be gamers and cosplay models with dark hair.
But they both preach positivity and creative thinking. Azzy is a little further down the list, with her adorable baby voice. She reminds me of a preschool teacher. Every one of her videos is like a candy bar, a little treat or a little ray of sunshine.
Even if you think you've seen similar content before, her personality is so humble and relatable. Azzy is like the girl in school who was everyone's friend.
Check out her channel and once you're hooked, And check out her cuteness and hilarity on Instagram.
6.Ricardo Medina Jr.

Ricardo Medina Jr. starred as Cole the red Power Ranger in Wild Force (2002) and Deker, the samurai ghost in Power Ranger Samurai (2011.) When not acting or meeting his fans he was an exotic dancer with a group called Hollywood Men.
On February 1, 2015, Medina was arrested after stabbing his 36-year-old roommate to death with a sword, in self-defense.
On January 16, 2016, he was rearrested. This time the prosecution was using the victim's defense wounds as proof that the incident was not in self-defense. Out of fear Mr. Medina took a plea deal for 6 years.
This is such crap. The one time I had the honor of meeting Ricardo Medina Jr, at
PowerMorphincon, he was so amazingly kind. He did not sit at a table to charge for autographs or photos. He went around talking to fans and signing autographs for free, just happy to be among his fans. I hope he will have a chance to meet his fans again before 2022, because someone with a heart like his does not deserve to go to jail.

5.Mystical Mike

From the reality competition show Ink Master (season 3), comes Mystical Mike, aka Michael Paterek. He was famous for speaking like a classicly trained theatre actor crossed with a teen superhero. In fact, on his Instagram, he calls himself, "Just your friendly neighborhood tattoo artist." (Friendly neighborhood Spiderman…lol)

"I have a creative imagination but my technical skill limits my production value."– translation: He has great ideas that don't always work out the way he planned.
On the show, when asked if he is there to win Ink Master or just get attention-
"I have what it takes to enhance my life and the quality of my existence."
translation- what does it matter? there can be only 1 winner but everyone else will still be able to put this show on their credentials. To me, that is a perfectly valid answer.
His larger then life personality is evident on his Instagram and Twitter; he is truly a mystical creature.
4.Daniel Bernhardt

Switz born action star Daniel Bernhardt got his start replacing Jean Claude Van Damme in the Kickboxer series. But he is best known as Siro in Mortal Kombat Conquest. He was the funny one, the muscles, a former guard turned "mystic warrior."


Following Mortal Kombat Daniel Bernhardt has been in a good many roles, too many to name here
With each one he dives head first into the character, from a redneck lizard man in Creature (2011)-


to a former Hunger Games champion in The Hunger Games: Catching Fire (2013)-


Every character he plays (no matter how small- and in Hunger Games, his role is VERY small) is a source of inspiration.
3.Aly Raisman


Gymnast Aly Raisman was cool in 2012 when she won an individual gold on floor and a bronze on beam. In 2016 she made it all the way to silver in the all around, along with a silver on floor. In 2017 she posed for Sports Illustrated, and championed the quote "women don't have to be modest to be respected."


Then in 2018, she championed the rights of sexual abuse victims, as one of many athletes to testify against Larry Nassar. Aly Raisman may be retired from the grueling world of elite gymnastics, but her role as a champion of victims rights will be just as challenging and fulfilling.

2.Michael Heverly


Michael Heverly made it to America's next top model, season 22, which I will never EVER watch. He does some sexy stuff but he also managed to get into a fight. And in various youtube clips, he comes off as kind of a bully to the other contestants.  But much like another person on this list (#6) I am judging on talent and his off-camera personality. As seen on his twitter, Michael Heverly adores his fans.
And every image of him is pure art.


As a teen, he left Hollywood, Florida for New York and got signed right away. Now he walks runways all over the world while spreading love, positivity, and inspiration.
1.Dove Cameron


Dove Cameron has risen to fame for her role as Mal, daughter of Maleficent, in Disney's Descendants. She recently won an Emmy for her work on the show Liv and Maddie where she plays identical twins.


She is also an outspoken advocate for the LGBTQ community since her father committed suicide due to being in the closet. She chose the stage name, Dove, in his honor.


What I find most admirable about Dove Cameron is her determination. She made it in Hollywood at a very young age and continues to work hard despite depression and anxiety.
I leave you with this haiku-
Chase love, hope, beauty, 
pursue life and joy
achieve your inspiration.