I'm currently working on writing a creepypasta because in the past few weeks I have become obsessed with creepypasta youtube videos. Each story is a unique look at reality; why do bad things happen to good people? Because of monsters.
But growing up I admittedly did not like horror movies. I hated the whole "This could be you," aspect of horror. Why? Just because someone was in the wrong place at the wrong time doesn't make them worthy of being killed. What was worse was when at the end the hero seemingly survives only to get pulled back into the nightmare (or they never left the nightmare OR the monster is unkillable for whatever reason….)
This list will read as a ladder, steps you can take to slowly make your way to the deep end of the horror pool. Starting with a sweet love story for all ages-
5. Underworld (1. 2. 3 and 4- the 5th movie kinds of ruins things….)
Underworld is a Romeo and Juliet love story of Vampires vs Werewolves. Selene is a hunter, trained to kill for the vampire elite. Michael is a werewolf (or Lycan.)
the 3rd movie was a prequel talking about the history of the war along with the first every Vampire-lycan love story: Lucian and Sonja.
So overall, there is blood, gore, and even some nudity but the main theme is love against all odds.
Now let's dive deeper down the rabbit hole…
4.Halloween (2007 Rob Zombie reboot.)
Further down the list will be my reason for watching the 2007 Rob Zombie reboot, despite not being a fan of the original series. In fact, my husband was a fan of the original series and said Rob Zombie's vision was contradictory to the spirit of the series.
This Michael was a kind child with a love for family. He killed his older sister because she was a slut (retro horror mortality standards,) his sister's boyfriend, and his mother's abusive/manipulative boyfriend. But he leaves his baby sister alive.
There is a lot of gore as Michael kills his way back into his sister's life. But that's all he wanted- to know her, his sister, his family. Throughout his journey he sees visions of his mother, encouraging him to reunite their family.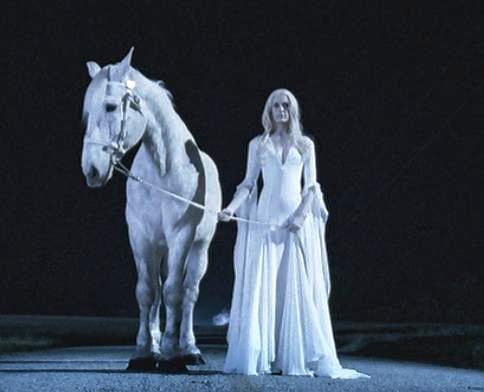 No spoilers, but in the sequel… he finally gets his wish.
This next one holds a special place in my heart-

3. Silent Hill
In 2006 I was in Air Force tech school. The military base played one movie a night. When Silent Hill came out, it was an event.
Based on the game series, Silent Hill is the story of a place that exists on a plane between heaven and hell. And if you pass through it, there is always a good reason. In the games, the reasons vary from child abuse to cults to medically assisted suicide. In the film, the story was about Rose, who made an intentional journey to the town because her adopted daughter Alessa had been shouting the name of the town in her sleep.

Why is this movie a step deeper then Haloween? Because Silent Hill is full of monsters, each one representing aspects of Alessa's "other life." Bullies are burnt, grey children. Hospital staff are zombies armed with random torture devices (not hard to see the symbolism.)
I actually don't like looking at the images, with one exception- Pyramid head. In the first movie, there are hints that he may be Alessa's biological father.
He is a demon but he's also a protector.
Much like-
2. SAW 3
SAW is a series that went on for way too long. The main character Jigsaw died of cancer, after a life filled with hardship. His wife lost her baby because a guy slammed a door into her. Jigsaw himself died of cancer because his insurance refused to pay for experimental treatment. Jigsaw offered to pay out of pocket, but he was told that in doing so he would void ALL his insurance.
So knowing he was destined to die he devoted the last years of his life to creating elaborate traps to punish people who escaped justice. But there was always a way out (usually involving sacrificing a few body parts.) The sinner could live but he or she would carry the scars of their sin.
SAW 3 is my favorite of the series because it took a strange turn. Jigsaw was dead, but he had multiple people competing for the honor of becoming his successor. However, one person took to creating traps that were inescapable. This was NOT in line with Jigsaw's vision. Because how you teach someone a lesson if they're dead?
SAW takes on the villains of the world from like lawyers who take bribes to health insurance offices where people are trained on how to deny as many claims as possible. Is it gory- yes. Is it gross- yes. But will you leave with a sense of fear? No, because you don't have anything to be afraid of: you won't be a victim and even if you are there is a way to save yourself.
Unlike the victims of-

1.House of 1000 corpses, and its sequel, The Devil's Rejects
This 2003 film was the first time I watched horror for the sake of horror. This goes against the previous statement that the innocent should not die. The four young people who get trapped traveling across a rural area were all really annoying horror movie stereotypes.
One could not help but see the Firefly family (Texas chainsaw massacre -esque) bad guys as the cool. Actually, House of 1000 corpses could be seen as a direct parody of Texas Chainsaw Massacre.
Sheri Moon as Baby was a psycho femme fatale, similar to Harley Quinn: by far the coolest character.

In the sequel 'The Devil's Rejects' the police raid the house and the remaining/surviving members of the Firefly family have to go on the run. The sequel has a very 'Bonnie and Clyde' feel because although they are carving a path of murder and destruction the main characters care very deeply for each other and you can't help but root for them.
Now if you excuse me I'll just be finishing up my creepypasta and awaiting the recently completed 3rd installment of the Firefly story-
Bye…..

I'll meet you at the bottom of the rabbit hole.